A core element in our sustainability strategy involves obtaining demanding certifications (ISO 14001, DIN EN ISO 9001:2000, ISO 50001 & AISE, IFS HPC and IFS Broker Audit) and acquiring annual EMAS validation of all companies at our two locations. The Eco Management and Audit Scheme (EMAS) of the European Union is a combined environmental management and environmental audit. It is considered the most demanding and highest quality Environmental Management system currently on the market. Werner & Mertz also orients its sustainability strategy on the fulfillment of Sustainable Development Goals (SDGs) of the United Nations.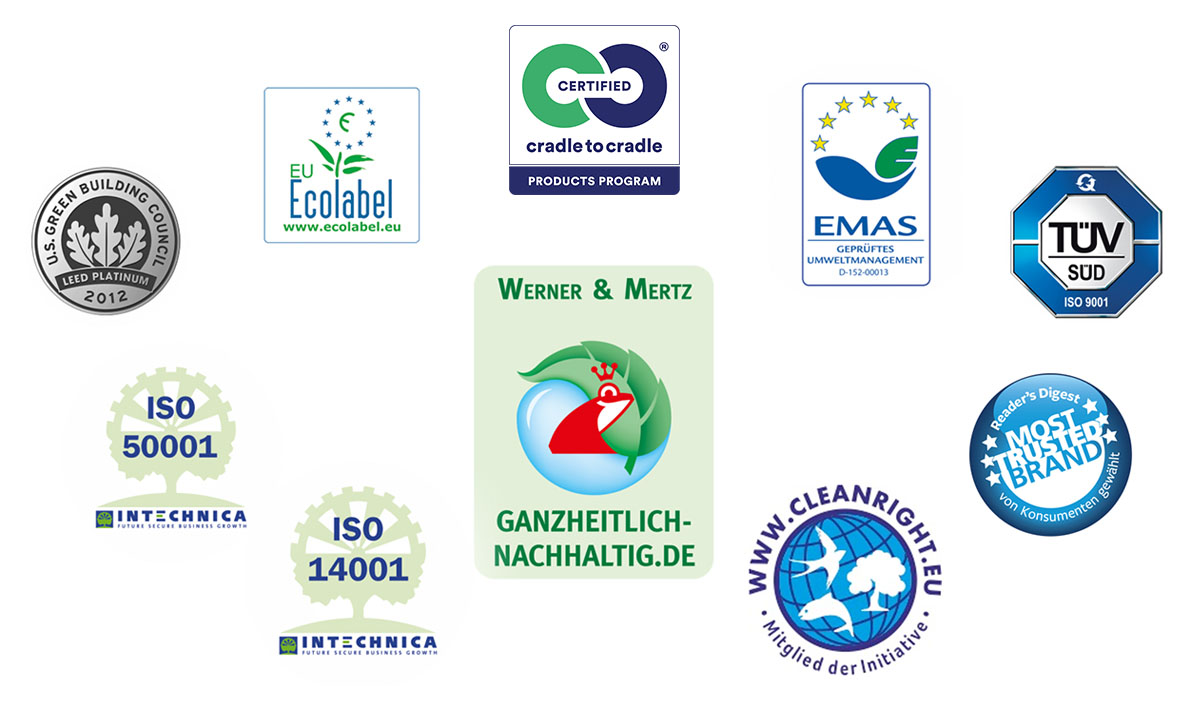 Since 2003 Werner & Mertz has voluntarily had the environmental impact of its Mainz site and, since 2005 of its Hallein (Austria) site, audited by the European Union Eco Management and Audit Scheme (EMAS). What's best about EMAS is that it is a dynamic process, not a static state. The longer a company is involved, the more extensive its environmental engagement becomes. In the transparent examination of the company's ecological orientation, an independent auditor assesses production and systems. EMAS is considered the world's most demanding system for sustainable environmental management. The audit discloses the company's success and areas where action is required.
We develop all our products according to the Cradle to Cradle® principle. It stands for the replacement of the linear production principle of Cradle to Grave in which materials are often wasted, with no conscious consideration given to the long-term conservation of natural resources. Our products, however, are designed invariably for a closed biological or technical material cycle. Then product materials can be safely and completely returned to the biosphere or can be recovered for high-quality reuse.
Since 2013 we have had our Frosch brand and Green Care Professional brand products certified in the stringent Cradle to Cradle CertifiedTM process. We were the first company in the cleaning products industry in Europe to receive "Cradle to Cradle CertifiedTM Gold" for our Frosch Citrus Shower & Bath cleaner. In the same year 18 Green Care Professional products received the Gold designation. Since that time, another 43 products from the Green Care Professional brand have been certified.
LEED Certificate for Headquarters
For our headquarters building in Rheinalle in Mainz, we received in 2012 LEED Platinum, the most demanding certification for sustainable construction. The new building was Germany's first industrial headquarters in this top award class. LEED stands for Leadership in Environmental & Energy Design, a classification system for top ecological buildings.
The energy concept is particularly impressive. By means of wind turbines, photovoltaic panels and geothermal groundwater use, the building generates 20 percent more energy than it needs for normal operation.
Since 2001 our Quality Management system for product development and product supply at the Mainz site has been certified against DIN EN ISO 9001 criteria. Since 2002 our second production site in Hallein, Austria, also has this certificate.
The Werner & Mertz production sites have been ISO 14001 certified for many years. ISO 14001 is a worldwide standard for environmental management systems issued by an independent Non-Governmental Organization. We have this certificate as proof of a recognized environmental management system for use in Japan and other countries outside of Europe.
ISO 50001 Energy Management System
Since 2013 our Energy Management Systems in Mainz and in Hallein (Austria) have been certified in accordance with ISO 50001. This norm, valid around the world, covers the establishment and operation of an energy management system. In addition to guidance on monitoring and managing energy data, the standard provides assistance with the implementation of additional technical steps. The main objectives of ISO 50001 are to continuously improve a company's energy use, increase energy efficiency and conserve energy resources.
The European Eco-label (environmental daisy logo) is the driving force for especially environmentally friendly formulas in cleaning products. The daisy logo was created in the mid-1990s to serve as a European environmental symbol. The Eco-label, which includes all national environmental symbols, specifies the high requirements for environmentally friendly products. Many of our cleaners for the European market are made with Eco-label certified formulas.
In 2005 we were the first medium-sized enterprise in the soap, detergent and maintenance products industry to join the A.I.S.E. Charter. At a glance consumers can see that the product with the seal was designed and manufactured in compliance with sustainability criteria. Special attention is paid to consumer friendly and safe use of the product.
Reader's Digest initiated the Trusted Brands Study in 2001 and since then has ascertained the brand trust of German customers every year. The study is unique in that consumers name the brands without any prompts, that is, they are not given a list from which to choose. The consumers alone say which brands they trust most. Our best-known Frosch brand was named "Most Trusted Brand"  for the 19th time in a row in 2020.